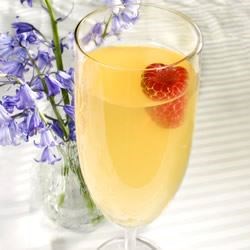 Look what we found over at allrecipes.com. When they say they have all recipes, they aren't kidding. This "mocktail" can be an added treat to your baby shower menu. Safe for everyone involved, especially if there are children around, and perfect for mommy to be!
Check out this recipe for Mock Champagne, it good for 40 people!
Mock Champagne
Prep Time: 1 Day 15 Min
Ready In: 1 Day 15 Min
Original Recipe Yield 40 (4 ounce) servings Share
Ingredients
- 2 (2 liter) bottles ginger ale, chilled
- 1 (46 fluid ounce) can pineapple juice, chilled
- 1 (64 fluid ounce) bottle white grape juice, chilled
Directions
Fill a ring-shaped cake pan to 1/2 with ginger ale. Freeze until partially frozen. At this stage you can place edible flowers, or pieces of fruit around the ring. Fill pan with ginger ale and freeze until solid. Place in punch bowl just before serving.
In a large punch bowl, combine 1 bottle ginger ale, pineapple juice and white grape juice.
Nutritional Information
Amount Per Serving Calories: 83